Why Effective Service Descriptions Are Important
If you're a dealership executive, service manager, or marketing manager, you know that well-written service descriptions are essential for attracting customers and growing your business. However, crafting compelling service descriptions that accurately convey your offerings can take time and effort. That's where ChatGPT, the powerful natural language processing tool developed by OpenAI, comes in.
With over 100 million monthly active users in its second month after launch and an additional $10 billion investment from Microsoft in January 2023, ChatGPT is quickly becoming a go-to tool for businesses to generate short blurbs and other forms of content. As a result, ChatGPT has become a valuable resource for companies looking to enhance their marketing efforts.
In this post, we'll show you how to use ChatGPT to write service descriptions tailored to your target audience, highlight your offerings' key features and benefits, and ultimately drive more business to your dealership. In addition, we'll provide practical tips and tangible examples to help you get started. And to make things even more relevant, we'll use oil changes as an example. So, if you want to improve your dealership's service descriptions and attract more customers, read on to discover how ChatGPT can help you achieve your goals.
A Step-by-step Guide for Writing Service Descriptions
To start using ChatGPT, visit the OpenAI website at Openai.com. At the bottom text bar, type: "Write a short blurb for a dealership oil change."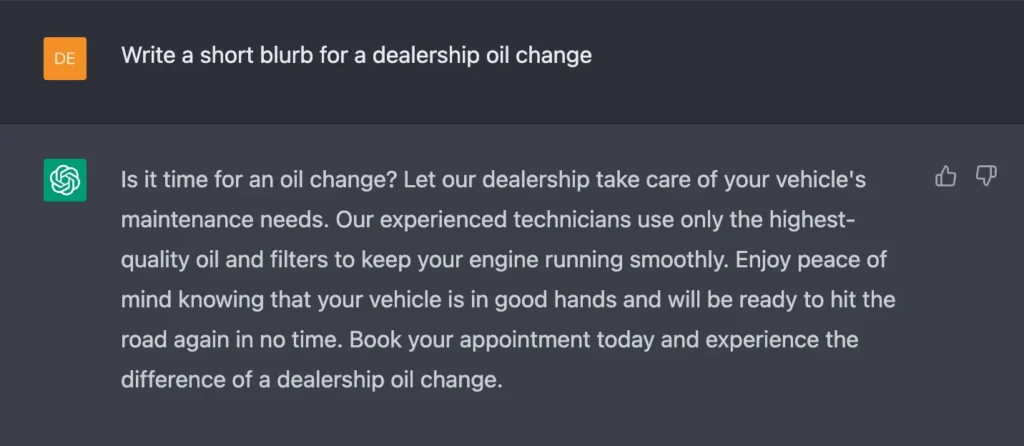 Type: "The dealership name is Kingston Automotive."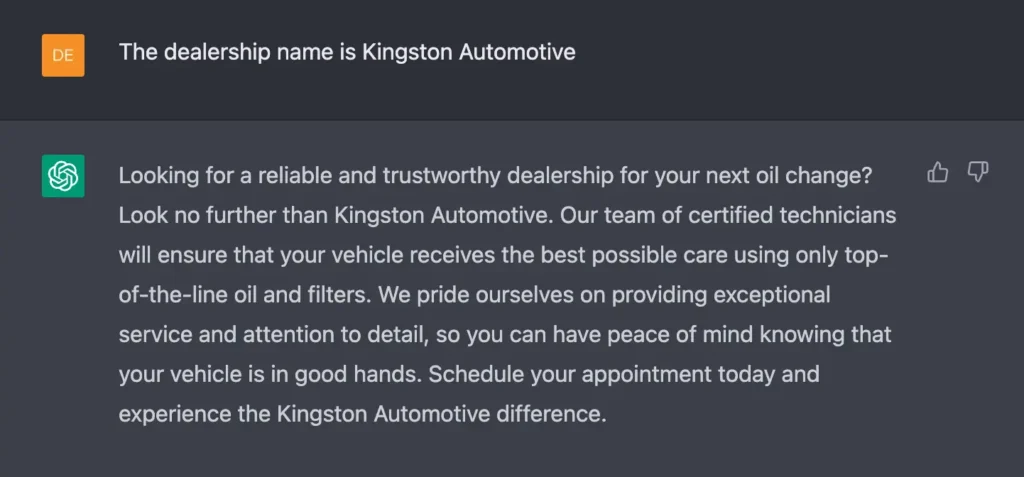 Type: "Add the High Mileage Rewards at the end of the blurb, where it's 20% off in Jan and Feb for cars over 75,000 miles."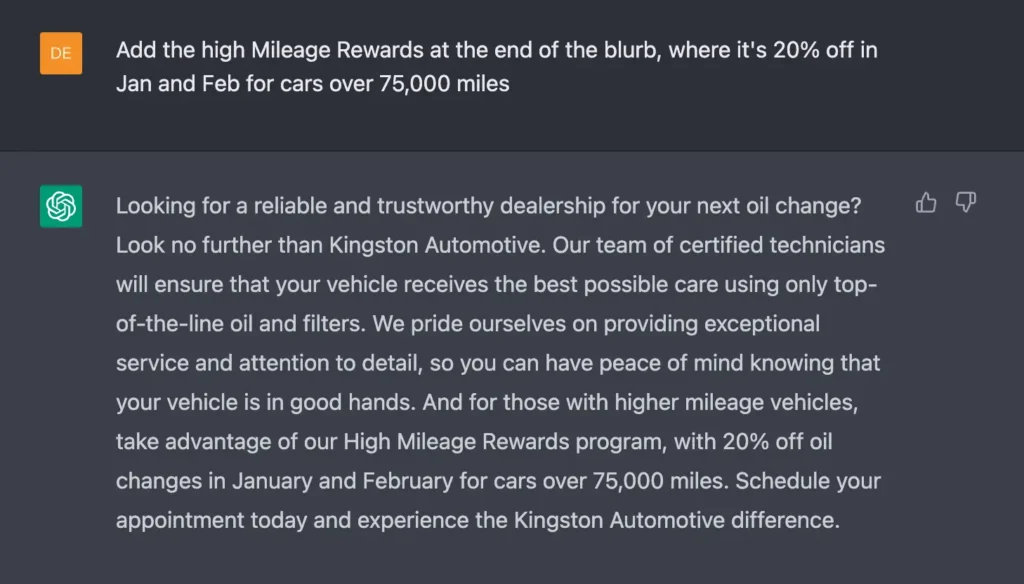 Tip: Indicate that you wish to add the promotion at the end so the blurb doesn't become just about the High Mileage Rewards.
Type: "Indicate that we only use synthetic oil."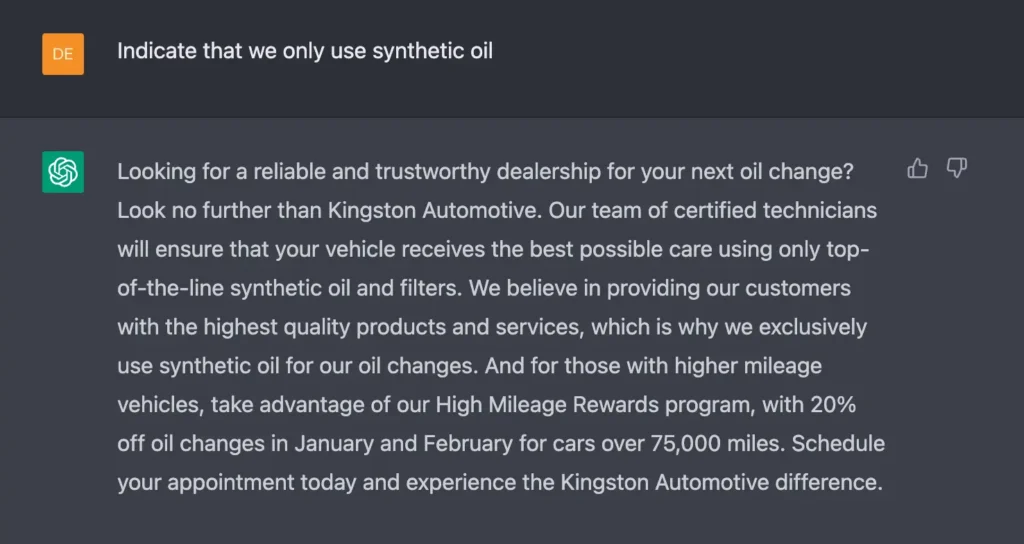 Type: "Please mention that our Express Lane oil change will take less than 60 minutes."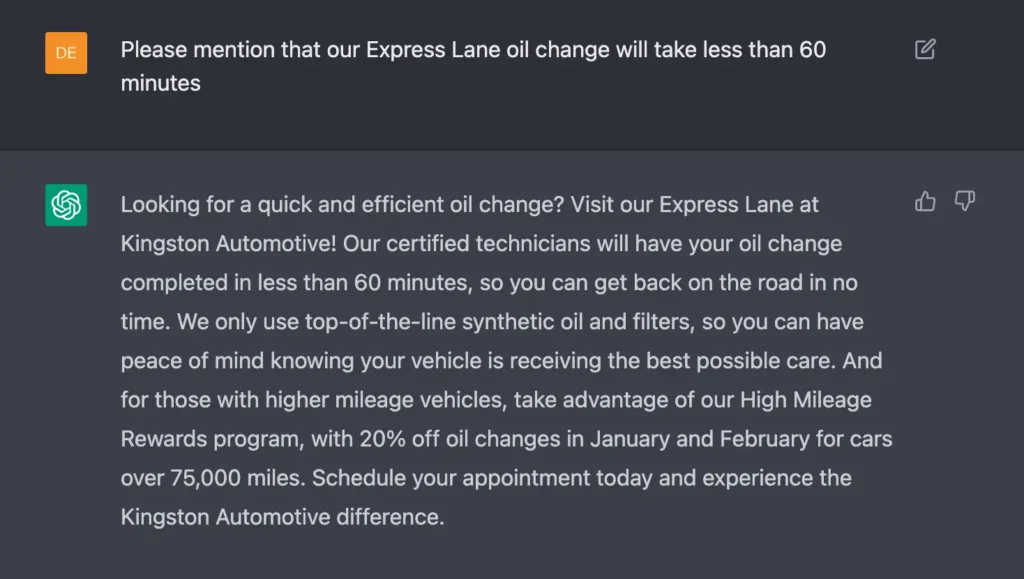 Tip: Be specific about how long it will take for the Express Lane.
Type: "Please also write a shorter version."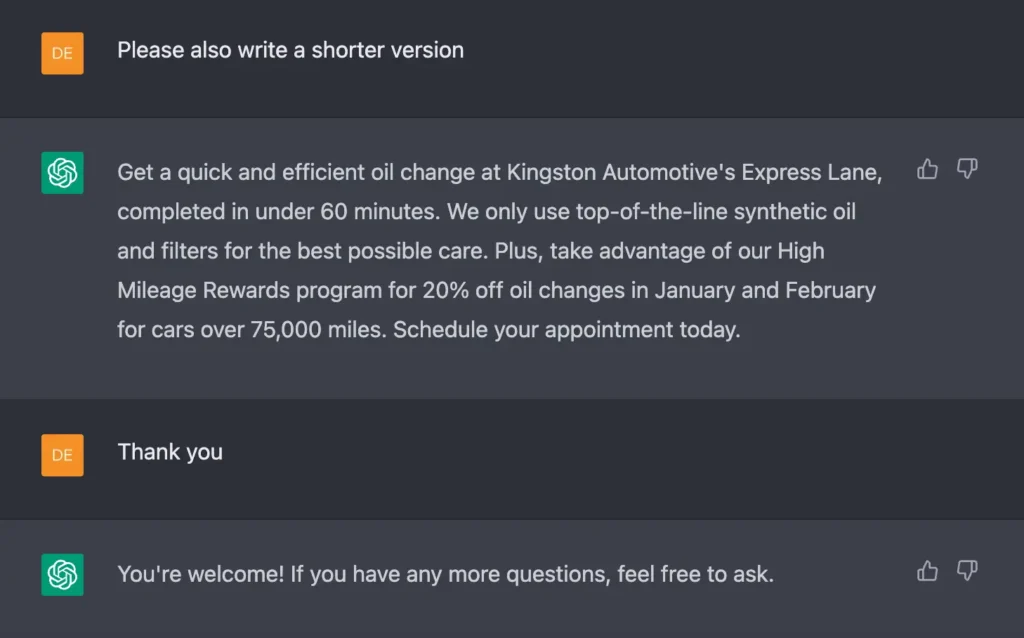 ChatGPT Service Description Tips and Caveats
From this example, we hope you can see how we can "tell" ChatGPT to generate the paragraphs in ways that fit our specific needs. As you can see, ChatGPT is very powerful. However, it could be better. It could generate false information. It tends to use run-on sentences. What we typically recommend is NOT to use the generated text as is. At a minimum, we run them through Grammarly to make them more concise. Since you are the most familiar with your dealership's services, you must update the generated text to align with the offered services.
Taking Your Online Customer Support to the Next Level
Thank you for reading this post on how to write service descriptions for your dealership with ChatGPT. Suppose you found this information helpful and want to take your dealership's online customer support to the next level. In that case, we invite you to check out DealerAI, our digital platform that leverages artificial intelligence to provide an exceptional online customer support experience through chat automation for your dealership. With DealerAI, you can enhance your website and social media chat capabilities and automate your customer support processes. Book a demo today to learn more about how DealerAI can benefit your dealership.
See How DealerAI Can Boost Sales and Revenue for Your Dealership